The Teddybear is a 50/50 hybrid of the Brichon Frise and the Shih Tzu. Depending on breeding, it is possible for Teddybears to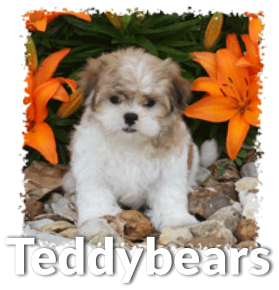 have more or less of one breed than the other and still be considered a Teddybear. The typical weight of a Teddybear is 10 to 13 lbs full grown. The average life expectancy of the Teddybear breed is between 15 and 18 years.
The Teddybear is a friendly and affectionate little dog that loves to be around family. These dogs are generally good with kids. Shichon dogs are lively and they love to play which makes them a great choice for active families or families with older children. These dogs form strong bonds with their family members and they tend to get along well with other dogs and household pets.